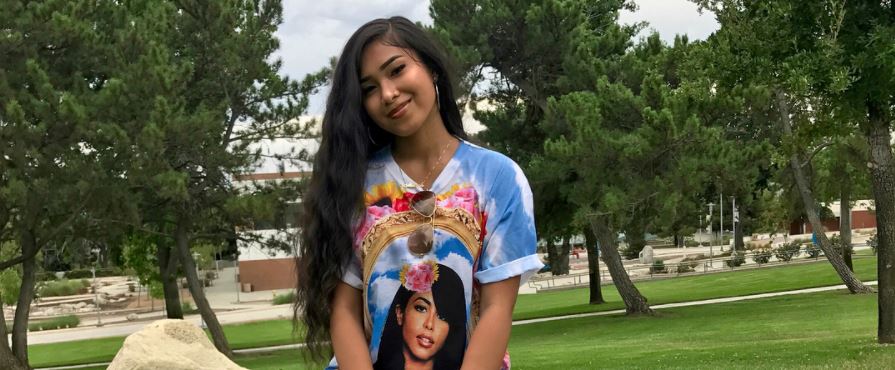 She has a booty that can make a grown man cry and she's only 18. Representing well for class of 2017, Zerah from San Diego, CA is proof the new generation is here to take over in every way. She has the fashion sense of a Vogue editor in her mid twenties and the wittiness of a daytime news reporter. We had the opportunity to ask Zerah 10 random fashion related questions. Here is what she said….
1. Nike or Adidas?
Zerah: This is a really hard question for me because I love shoes. Adidas has been coming out with really good products lately, but Nike also has a lot of classic shoes and they make Jordans. But if I really had to choose between the two, it would be Adidas for me because they fit my style better.
2. Favorite 'Netflix & Chill' outfit?
Zerah: Favorite "Netflix and Chill" oufit gotta be the whole his T-shirt with undies. It's just sexy and comfortable, perfect to Netflix & chill.
3. Your favorite best dressed celebrity is….?
Zerah: My favorite best dressed celebrity is, of course, the iconic Riri.
4. In your opinion, what does a fuckboy dress like?
Zerah: When I think of a fuckboy, I just see somebody who's a hypebeast I guess. Someone who tries too hard to wear whatever is trending.
5. Describe your style in one word?
Zerah: Comfortable
6. Favorite fashion magazine is?
Zerah: Vogue
7. Victoria's Secret is…..? (finish the sentence)
Zerah: Basic.
8. Rihanna's style or Beyonce's style?
Zerah: Rihanna
9. Favorite lipstick color?
Zerah:  I love my nudes.
10. Fashion is …..? (finish the sentence)
Zerah: ART ♦
Follow Zerah Bonifacio on Instagram at @zerahbnfc and snapchat at 'zerahbonifacio'.