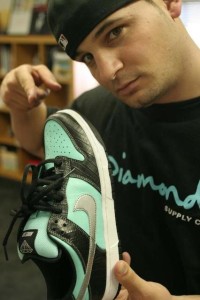 Starting out as a skateboarding hardware company back in 1998, Diamond Supply Co. is one of the world's most popular clothing brands today. Sixteen years after its inception, the company has grown into one of the most trusted suppliers of urban street wear and skate hardware. No longer a mom and pop shop operation, Diamond Supply Co. has now become a legendary streetwear brand alongside Stussy, Supreme, and Obey.
Nicholas Tershay also known as Nick Diamond, is the man who conceptualized the skateboarding hardware idea from a one-bedroom apartment. With the little savings he had, Nick moved from San Francisco to Los Angeles in pursuit of a dream. Diamond Supply Co. had its humble beginnings in Mike Carroll and Rick Howard's distribution center for 'Girl Skateboards' selling skateboard hardware and gear out the back the door of the shop. With Nick's aggressive and dynamic business strategy, his company grew into a full range hardware and clothing company that now offers skateboard hardware, accessories, as well as apparel for both men and women.
Nick's company has dramatically grown over the past fourteen years. The Diamond is currently considered one of the biggest and most popular brands in the streetwear and skateboarding industries today. Diamond Supply Co.'s  major retail boost came in 2005 when the company received a request from Nike to come up with a signature sneaker. The Diamond Nike SB Dunk is known by sneakerheads to be a critically-acclaimed collectible sneaker that came from the Nike SB line. The Nike SB Tiffany which was conceptualized in 2005 helped push the company to the next level especially with customers outside the realm of skateboarding. But it wasn't until 2012 Diamond Supply Co. really took off and became a street wear and clothing powerhouse.
In 2012, Nick took the business to another level. Entering collaborative deals with many influential individuals such as Kanye West and top companies like Karmaloop, 2012 would set the pace for what the brand is today. This was also the year many critics believe Diamond Supply Co. had some of their best collections. The Diamond 'Mystery Box' (customer's purchase a box item containing unknown Diamond Supply Co. products) and the company's Twitter account were also introduced this year.
Nick was a former skater for several companies, but entrepreneurship was his true calling. Nicky knows how to continuously innovate the brand through strategic collaborations and the brand continues to show a strong design aesthetic. These are some of the reasons why the brand continues to stay on top and street/skate fashion communities continue to welcome the company and embrace the brand with open arms. 

The founder of Diamond Supply Co. believes building the right connections and relationships opened the window of opportunity for his Diamond brand and has been the key for its lasting success. Streetwear became a booming market during the mid-2000s, but soon dropped off due to the recession. Some brands failed to recover after the recession, but Nick believed that his Diamond Company could withstand all obstacles, and so it did!
Whether an athlete, skateboarder, designer or an artist, there's always a chance for everyone to pursue a dream, and make it a reality. This is, after all, what the 'Diamond Life' represents.