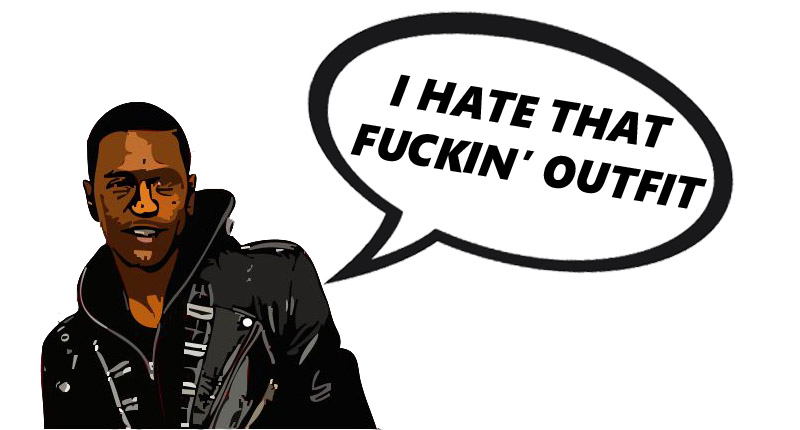 Big Sean has a lot of quotes attached to his name such as "Boii", "I DO IT" and "Lil Bitch" just to name a few. His lyrics are witty, funny, unpredictable and fashion happens to be a major topic of Sean Don's lyrics and quotes. He has previously addressed himself as Louie Vuitton Sean and makes constant references to fashion brands such as BAPE and Adidas. Big Sean's fashion talk is backed up by a good fashion sense and has even been featured on the cover of GQ. Let's take a look at the 10 best Big Sean fashion quotes:
#10 – "I'm a sneakerhead. I probably have a couple hundred pair of shoes. I got all sorts of shoes."
[Big Sean confesses he's a sneakerhead to Complex during an interview on his Adidas Originals collaboration]
#9 – "I've learned that whatever you want to do is cool. I think that's probably the biggest thing that I've learned from him about fashion."
[On the fashion lessons Sean has learned from Kanye West]
#8 – "Closet lookin' like Planet of the Bathing Apes"
[Lyrics from 'Paradise']
#7 – "Sometimes I feel like putting on a blazer with just a T-shirt."
[On the topic of possible Big Sean fashion choices]
#6 – "Wearing retro shit, that's old fashion"
[Lyrics from 'All Me' featuring Drake and 2 Chainz]
#5 – "I've been cutting up my jean jackets and hoodies and putting them together. One of one, man: customization is definitely the way to go"
[When asked what is the best Big Sean fashion style tip]
#4 – "Still rockin' Louis Vuitton condoms, cause I'm so fuckin' in style"
[Lyrics from 'Till I Die' featuring Chris Brown and Wiz Khalifa]
#3 – "I probably wasted a couple of thousand dollars on some dumb ass clothes"
[Excerpt from an interview with GQ UK edition on Big Sean's worst fashion mistakes]
#2 – "Your style is just an extension of you"
[Big Sean talking fashion to Ask Men]
#1 – "Ooh I love that ass..but I hate that fucking outfit!"
[Lyrics from 'Open Wide' featuring Calvin Harris]
There is no doubt Big Sean's fashion choices and quotes are some of the best in music today.